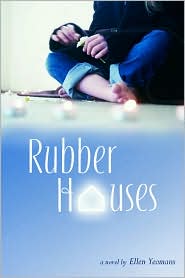 Rubber Houses by Ellen Yeomans
Publication Date: January 3, 2007
Publisher: Little, Brown
Pages: 152
Format Read: library book
A typical teenager, Kit lives a happy, normal life involving friends, boys, and a loving family. She and her younger brother, Buddy, are incredibly close despite their age difference, connected by a shared love of baseball and math. But then tragedy strikes, and the family struggles to survive.


I was surprised that this much of a summary went with this book. It is written in verse, and though that is no problem with me, I thought the story could have been told better if it weren't. In fact, there wasn't much story. I really learned nothing about her normal life, as seen in the blurb from the back, it immediately dives into her brother's struggle with cancer.
It's no secret, seeing as there is no real plot to spoil. The poems made no sense and were not chronologically ordered in any way. The book was only 152 pages long and the font was huge, so that's about it. It's a 1.0, don't even bother.
In the mean time, I got my hands on an ARC of Geektastic today! I'm really excited, and breezed through the first story. It's wonderful so far.
Also, has anyone heard anything about that new television show Impact? It is about how a meteor knocks the moon closer to earth. It mirrors Susan Beth Pfeiffer's novels Life as We Knew It and The Dead and the Gone. I'm not really sure what's up with that, but thought it was interesting, because it didn't say anything about her. The show looks identical. ?